The artist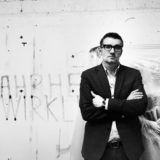 Thomas HIRSCHHORN
Born in 1957 in Bern (CH) 
Lives and works in Paris (FR) 
Represented by the gallery Chantal Crousel, Paris (FR)
Thomas Hirschhorn's work is made like a big political and critical indictment brought against the consumer society and western democracy. Formally very identifiable, it is comprised of sculptures and installations, kinds of monstrous concretions made from rubbish and poor or aesthetically downgraded materials: cardboard, adhesive tape, tin foil and pages from magazines. With these heterogeneous elements chosen as much for their vulgarity and their coarseness as for their violence and force for calling into question, Thomas Hirschhorn, using methods of recovery, develops a riotous universe from collages and assemblies where accumulation and impropriety hold sway. Outrageousness and provocation serve a theatrical and grandiloquent art echoing the current human condition in the image of a paltry spectacle. They produce a strong and singular aesthetic experience in which the eye is assaulted at the same time as it is required to resist an oppressive sensation of suffocation.
Thomas Hirschhorn addresses a scathing critique, without any complacency, to the contemporary world born from a modernity whose ideals have been derailed and whose democratic ambition is threatened by the powers that, paradoxically, it has itself engendered. The chaos, excesses and cacophony which he uses and abuses echo the cry of rebellion that Edvard Munch, in 1893, or the Dada movement in Zurich, in 1915, would launch against the threats of chaos which were already accompanying a holier-than-thou modernity. The ironic title of "monument" that he often gives to his sculptures, like tributes to the memory of a society which didn't keep its promises of freedom and rights, is mocking the modernist utopian idea of the unity of the total art work.
Under the cloak of disillusion, Thomas Hirschhorn's work nevertheless still questions the place and the power of politics in art. It confronts rationality, framework and rule with a thought on resistance and non conformity, without any possible control, made of sarcasm, grimaces and ugliness.
Olivier Grasser
More about the artist :
https://www.crousel.com/artiste/thomas-hirschhorn/