The artist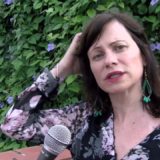 Rebecca BOURNIGAULT
Born in 1970 in Colmar (FR) 
Lives and works in Paris (FR) 
Represented by the gallery Eva Hober, Paris (FR)
Video maker, photographer and painter, Rebecca Bournigault has placed the question of the portrait at the core of her artistic practice: whether she is depicting herself or capturing the personality of a friend or someone anonymous, the question of the gap that can be widened between the physical, psychological, social or ideal self runs through all of her work. Rebecca Bournigault composes simple, spare images which, besides the references to personal matters or news items, tend to concern man in his global nature. In this sense, the work in series that the artist develops is part of the will to attain the essence, the generic character of a subject, of a sensation…
Thus, in one of the artist's watercolour series Clin d'œil (2005), the female character is off-centre and confined to the left-hand corner of the paper, thereby inviting the viewer to search for the expression suggested by the title and share the connivance between the viewer and the viewed. Above all a surface of communication, the face then becomes the instrument of desire and the mechanism of seduction, as already analysed by the artist in her video Portraits-maquillage (1996) is then set into motion.
In the series Les Émeutiers (2006), begun after the French riots of November 2005, Rebecca Bournigault pursues her encounter with others, but this time refusing the obviousness of the face in any exchange. Here, the portrait is centred but the masked character appears as if evanescent, caught up in the image's background. The title gives us an indication of the portraiture: the name of a country, Panama, Haiti… However, this information is only secondary since the person concealed under the rioter's scarf is not perhaps in the country being evoked or even from that country. Here again, only the expression of the rioter provokes the viewer to question his capacity for rebellion or resignation.
H. C.
More about the artist :
http://www.evahober.com/?page_id=7824