The artist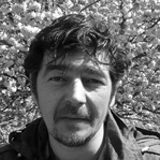 Philippe PERROT
Born in 1967 in Paris (FR) – deceased in 2015 in Paris (FR)
Represented by the gallery Art : Concept, Paris (FR)
Interview of the artist – 2009
The figurative painter Philippe Perrot depicts scenes and themes from everyday life, where often naked bodies thrash out their family secrets, their sexual fantasies and their morbid obsessions.
The artist's chromatic palette – made of browns, pinks and sulphur yellow… – and the flattening of the image exacerbate this impression of physical as much as mental chaos. For the bodies, dripping with flesh are merely the expression of a great inner disorder. In complement to the oil paints, the artist also uses antiseptics in order to obtain colour and specific material effects.
The raw realism of these canvasses somewhat recalls the expressionist exploration of the German avant-garde or more recently Francis Bacon or Lucien Freud. Thus, in Sœur, champignon, navet (1999), the contorted body on the sofa but especially the presence of two fingers giving the V sign can be read as quotations from Egon Schiele's self-portraits. Finally, another leitmotiv in Philippe Perrot's paintings is the presence in the pictorial narratives of fruit and vegetables similar to evil goblins and which, assembled into characters, overlap in an absurd manner.
In Le Clou (2002) the artist puts us face to face with the anguish of childhood: the little boy, victim of a nail skewering his foot, inescapably recalls the figure of Oedipus – etymologically "the one who has swollen feet" – and the psychoanalytical complexity associated with it. Finally, although the artist does give some keys to the understanding of the images through their titles, the latter often remain enigmatic.
A constant coming and going between Eros et Thanatos, these paintings are undoubtedly a cathartic virtue for the viewer who, confronted with the off-camera and the allotment of situations proposed by the artist, experiences the dizziness of the subconscious.
H. C.