The artist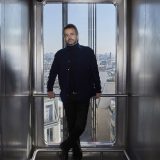 Philippe DECRAUZAT
Crédit photo : Hugues Lawson-Body
Born in 1974 in Lausanne (Switzerland) – Lives and works in Paris.
Represented by the Francesca Pia Gallery in Zurich, the Medhi Chouakri Gallery in Berlin and the Nara Roesler Gallery in Sao Paulo.
Philippe Decrauzat's painting and film establish a critical relationship with the history of modernism by establishing a visual and referential game with certain perceptive strategies specific to the historical avant-gardes and experimental practices, extending his sources to fields as diverse as graphic design, music and science fiction. His work mobilizes optical phenomena that question both the author and the status of the image. Their complex relationship to time and space – which has become dilated, compressed or cyclical – thus disrupts our understanding of them. For the Marcel Duchamp Prize, Philippe Decrauzat proposes two distinct and complementary spaces. Shaped canvas and a cinematographic "loop" relay the spatio-temporal experience of the body in the exhibition.
Philippe Decrauzat graduated from the ECAL (Ecole cantonale d'art de Lausanne) in 1999. His work has been presented in solo exhibitions including Still (Times Stand), Le Portique, Centre régional d'art contemporain du Havre (2021); Replica, Blueproject Foundation, Barcelona (2019); Circulation, Galeria Nara Roesler, São Paulo and Rio de Janeiro (2019); Delay, Galerie Praz-Delavallade, Paris (2017). He has participated in numerous collective events including "It Never Ends" (exhibition organized by John M. Armleder), KANAL – Centre Pompidou, Brussels, (2020); "Concrete Contemporary: Now is always also a little of yesterday and tomorrow", Haus Konstruktiv, Zurich (2019), or "Dynamo". "Un siècle de lumière et de mouvement dans l'art" (exhibition organized by Serge Lemoine and Matthieu Poirier), Galeries nationales du Grand Palais, 2013).