The artist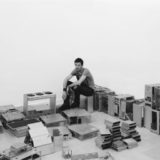 Nicolas MOULIN
Born in 1970 in Paris (FR) 
Lives and works in Berlin (DE) 
Represented by the gallery Valentin, Paris (FR)
Interview of the artist – 2009
Photographer, video maker and sculptor, Nicolas Moulin is not exclusive in his artistic work halfway between reality and science fiction.
From Vider Paris (1998-2001), a series of computer modified images showing emblematic buildings and monuments of the empty capital covered in concrete up to the second floor, to Goldbarrgorod (2008), an assembly of computer carcasses proposed as a central unit of habitation, his projects question the idealogical conditioning to the work in architecture and urbanism.
Blending simulation and realism, he constructs landscapes of devastation and mystery that plunge us into the "inconceivable universe" that Borges evokes in The Aleph.
The obscure titles that he chooses for his works strengthen the enigmatic character of the images and echo the portmanteau words of the Oulipo just as well as the expressions of the "Newspeak" imagined by Orwell.
Fascinated by utopian architectures, Nicolas Moulin borrows as much from the futuristic projects of Superstudio or Archigram as he does from ancient edifices. Thus, in his photograph Askiatower, he transposes the unfinished hotel "Ryugyong" in Pyongyang – the seventh highest skyscraper on the planet – into the desert as if in echo of the Egyptian pyramids and of the visionary 18th century architect Boullée's precepts of "buried architecture". As for Blankudermilq 01, the construction, emerging like a space vessel from the bowels of the earth, evokes a war of the worlds between real urban wasteland and fictional construction. Playing on the supposed veracity granted to the photographer, he flusters the viewer and hastens him into the uchrony of the creators of anticipation.
Placing himself at the intersection of past, present and future time, the aesthetics of ruins, suburban housing settlements and imaginary buildings, Nicolas Moulin depicts a post-apocalyptic world for us.
H. C.