The artist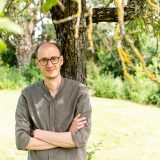 Massinissa SELMANI
Crédit photo : Marco Giugliarelli
Born in 1980 in Alger, Algeria. He lives and works in Tours, France.
Represented by the gallery Anne-Sarah Benichou (Paris), Selma Feriani (Tunis, London), Jane Lombard (New-York)
Massinissa's body of work frequently resorts to the montage of images and drawings that ultimately have the ability to act far beyond their scale. Mainstream media imagery, newspaper clippings, surrealist photography and French and Algerian literature inspire the majority of his drawings and/or graphic designs. By superimposing found images and making drawing interventions Selmani aims to create social and political scenarios unlikely to occur in reality, and always balances these depictions in the realms of the comic and the tragic.
More about the artist :
https://massinissa-selmani.com/