The artist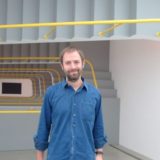 Leandro ERLICH
Born in 1973 in Buenos Aires (AR) 
Lives and works between Paris (FR) and Buenos Aires (AR) 
Represented by the gallery Sean Kelly, New York (US)
Interview of the artist – 2006
Developing a perceptible trap in all his works – photographs, installations – the Argentinean Leandro Erlich subjects the viewer to destabilizing situations.
Demonstrating great technical rigour in the setting up of his stratagems, the artist composes works having the appearance of reality but actually only showing shams of the real. This could already be observed in his first work, Ascensor (1995), presenting an elevator with its interior and exterior turned inside out, hence the realization that a subtle alteration in everyday life is sometimes enough to provoke a disquieting strangeness.
In Rain (1999), the artist has recreated rain sliding down a window. Far from the opacity of Duchamp's visual pun in Fresh Widow (1920), this installation generates an enigmatic atmosphere. Although a window has the common function of opening onto the world, with Leandro Erlich it becomes mediation with the imaginary. Like theatrical scenery, it orients the viewer towards a familiar vision at the same time as it opens onto illusion.
In the two photographs from the series Through the Wall (2007), a young woman is transformed into a "walker-through-walls". Once the fascination for the artist's conjuring trick has passed, for the viewer there remains the mystery of the tilting of reality, always likely to fade into the effects of dissolving matter as we see in this work, or in the effects of reflections frequent in others. Passing through the apparently ordinary wall is a symbolic echo of the passage from the other side of the mirror, plunging us into the complexity of the subconscious. Moreover, he makes reference to the attempts at breaking the stranglehold of totalitarian powers. This is why Leandro Erlich's works contain a dimension as poetic as it is political, not without evoking the novelist Bioy Casares's universe where fantasy is often very revealing of societies suppressed by dictatorship.
H. C.
More about the artist :
http://www.leandroerlich.art/