The artist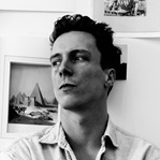 Cyprien GAILLARD
Born in 1980 in Paris (FR)
Lives and works between New York (US) and Berlin (DE)
Represented by the galleries Gladstone, New York (US) ; Sprüth Magers, Berlin (DE)
Cyprien Gaillard's photos, videos, paintings or even his engravings question the imprint of man in nature or in the urban space. Interested in the history of architecture, he establishes the connections between ancient sites and modern cities and proposes in a sense an inventory of what might be the archaeological remains of tomorrow. In this way, he renews the problematic issues of the ruin.
Indeed, by inventing new realities through the co-existence of varied temporalities, Cyprien Gaillard's oeuvre is given to read like the landscapes of future ruins: hybrid constructions which speak of the past while denying its existence, Cyprien Gaillard's ruins are accompanied by a reflection both present and premonitory on destruction and memory.
In one of the videos in the series Real Remnants of Fictive Wars (2003-2008), the artist has filmed an artificial cloud of smoke which he created thanks to industrial extinguishers placed near to Robert Smithson's Spiral Jetty, constructed in 1970 in the state of Utah. Engulfed by a sudden rise in the water in 1972, more than anything this emblematic Land Art work attests to randomness, a principle dear to Smithson and characterizes the transforming and destructive power of the forces of nature. In the video by Cyprien Gaillard, the vaporous cloud emerging from the jetty, like a cloud of dust after the collapsing of a building, demonstrates the fine line uniting destruction and the sublime. In this manner, by simulating the process of deterioration, the artist spotlights the passage of time.
In his series of paintings The New Picturesque (2008), he seeks to bring out the picturesque quality of a classic landscape by making the narrative elements disappear from the painting under a layer of white paint symbolizing a ghostly presence.
The diversity of Cyprien Gaillard's oeuvre seems to assert that if there is an end to history and if the world is a show staging this end, the vocation of ruins as memory is to reconstruct us within the continuum of time.
H. C.
More about the artist :
https://www.gladstonegallery.com/artist/cyprien-gaillard/biography