The artist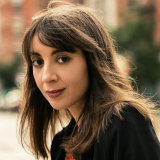 Bouchra KHALILI
Crédit photo : Ralph Goertz IKS Medienarchiv
Born in Casablanca, Morocco in 1975. She lives and works in Berlin.
Represented by Mor Charpentier gallery, Paris and ADN gallery, Barcelona
Encompassing film, video, installation, photography, printmaking, and publishing, Khalili's practice explores imperial and colonial continuums as epitomized by contemporary forced illegal migrations and the politics of memory of anti-colonial struggles and international solidarity. Deeply informed by the legacy of post-independence avant-gardes and the vernacular traditions of her native Morocco, Khalili's approach develops strategies of storytelling at the intersection of history and micro-narratives. Combining documentary and conceptual practices, she investigates questions of self-representation, autonomous agency, and forms of resistance of communities rendered invisible by the nation-state model.
More about the artist :
http://www.bouchrakhalili.com/