The artist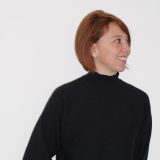 Bertille BAK
Crédit photo : the artist
Born in 1983 in Arras, France. She lives and works in Paris.
Represented by Xippas Gallery, Paris and The Gallery Apart, Rome
Dedicated to observing societies and to the accurate analysis of a site, Bertille Bak delves into communities and the groups by examining their rituals, gestures, and objects, which she later uses in her projects. In collaboration with the individuals she meets, she constructs narratives between fiction and documentaries where poetry and utopias usurp the simple assessment of a situation. Her work is all about sharing a passage of life, a struggle, a resistance, whether it concerns her own community in the mining areas of Northern France or groups that are unfamiliar to her. Understanding the organization between individuals, listing their personal and collective histories, traditions and folklores, their hobbies and revolts is central to the work of Bertille Bak.
More about the artist :
https://www.xippas.com/artists/bertille-bak/