The artist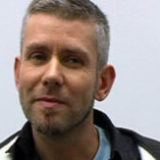 Adam ADACH
Born in 1962 in Nowy Dwór Mazowiecki (PL) 
Lives and works between Paris (FR) and Warsaw (PL)
Represented by the gallery Jean Brolly, Paris (FR)
Interview of the artist – 2007
The painter Adam Adach proposes compositions in which we can read a tension between abstraction and representation and, from an iconographic viewpoint, a duality between the artist's own history and collective memory.
One of his first pictorial series on empty public benches, perceived through a green filter (Banc parisien n° 1, 2, 3…, 1998) yielded a simultaneously safe and solemn impression in which time seemed suspended. Wanting to suggest more than demonstrate, the artist then opted for the painting of history, as we can see in the polyptych Dernier été (2002) in which the depiction of a parade of the Minderheit alternates with a soviet monument and some characters on a beach. These historical evocations and moments from everyday life are undoubtedly a collection of reminiscences from his childhood in communist Poland but, above all, by relying on idiosyncratic stories, they are his way of seeking to achieve the universal. The diptych formed by Bus stop and Sredni (2003), where a group of individuals waiting in the snow, echoes the characters lost in the immensity of an icy landscape whilst emphasizing the solitude and hostility inherent in both urban life and natural space. This confrontation draws a parallel between narratives that are anecdotal and global, fleeting yet eternal.
In his painting, Adam Adach uses an almost photographic framing where what might have been merely a succession of documentary snapshots now takes on a poetic density: thanks to the painting, the image relating to memory materializes and becomes sensual. In Nord-Est (2002), a mother and her daughter, viewed from the back, contemplate a stretch of water and a far-off mountain. Their sketched and expressive silhouettes appear shipwrecked on this last small island of earth, bathed in blinding yet milky light. This mysterious atmosphere seemingly wrapped in cotton wool exudes a certain melancholy and hypnotizes the viewer.
H. C.
More about the artist :
https://www.jeanbrolly.com/artiste/adam-adach/