L'artiste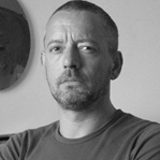 Stéphane CALAIS
Born in 1967 in Arras
Studied at the École des beaux-arts de Nîmes, then the Institut des hautes études en arts plastiques
Lives and works in Paris
Represented by the galerie Aliceday in Bruxelles

Nominated for the 2008 Marcel Duchamp Prize
Interview of the artist - 2008

The author of a work of heterogeneous appearance so much so that his formal developments seem to be the fruit of incongruous organizations, Stéphane Calais has been developing a singular approach within contemporary art since the 1990s. Calling upon painting, sculpture, wall drawing, silkscreen printing or even installation, sometimes simultaneously, his artistic practice joyfully shuffles around the traditional categories. Whether he organizes his graphic works so as to give them a strong spatial dimension (in L'Herbier, 2007, for instance, the drawings unfurl in the space like a construction) or creates "graphic sculptures" that unite objects and light and fragile elements like a line in space (Boxe Thaï, 1999, is composed of a basketball decked in colourful feathers), the artist seems to enjoy questioning the limits of each medium. This results in hybrid works which always seem to be in transition from one state to another. This notion of movement is a recurrent feature in the artist's work; whether it is about "moving" paintings (inspired by floating clouds and curling smoke as in Avril au Nord, 2006) or his predilection for mobile subjects (balloon, skateboard, birds…), Stéphane Calais's work hovers between the material and the airborne. Neither figurative nor abstract, he is inspired by sources borrowed indifferently from everyday life and from history, where cartoons, Watteau, fairytales, Ettore Sottsass, rock, Fragonard, and street culture, amongst others, come together without any sense of hierarchy. The maturing of the drawing is shown nevertheless in the majority of his works and more than ever when he abandons colour for black and white (La Chambre de Schultz, 2008). Stéphane Calais uses elements borrowed from the history of art (notably where his taste for portraits and bestiaries can be seen) rather like samples from which he creates strange, even grotesque visual combinations which seduce the onlooker with their playful character (because of frequent borrowings from popular culture and everyday objects) and puzzle him at the same time.


Exhibitions (selection)

2009
Ornements, crimes et délices, Espace Claude Berri, Paris.

2008
L'Amour, CREDAC, Ivry-sur-Seine.

2007
Le Style, Galerie Jocelyn Wolff, Paris.

2005
Gardens are for people ! (and art for us ?), dessins – installations, Abbaye de Maubuisson, Saint-Ouen-l'Aumône.

2004
Villa Arson, Nice.

2002
Musée des Beaux-Arts de Dunkerque.