L'artiste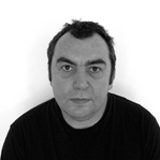 Pierre ARDOUVIN
Born in 1955 in Crest
Studied
Lives and works in Montreuil, France
Represented in Paris by the galerie galerie Chez Valentin

Nominated for the Marcel Duchamp Prize in 2007
Interview of the artist - 2007

On a background of popular songs and 70's clothes, Pierre Ardouvin's work immediately procures a vague feeling of familiarity and uneasiness. Divided between drawing and installation, he acts like a theatre of quotation, of intuitively recognizable situations and objects which call as much upon personal memories as collective memory. In a grammar of the cinema and a vocabulary of the snapshot, of the vignette or cartoon, he develops bitter-sweet constructions, functioning like images, leaving barely begun narrations up in the air, simultaneously rekindling pleasure and discomfort. Floating through Pierre Ardouvin's work is the nostalgia of an abandoned family house, the outmoded memory of a 50s French film setting, the early morning feeling of tiredness and heaviness after a party… so many reactivated emotions in a mix of humour, kitsch and irony.

Pierre Ardouvin is a child of the 60s and 70s. His work perpetuates the memory of the social and political transformations of that era, the conflict of generations and the end of the Glorious Thirties. It bears the disenchanted vision of a world on the rebound from its utopias and is the melancholic echo of a society in mutation, of cultures about to disappear. He opposes sensitivity and experience to analysis and concept. He prefers empiricism to prospect. He reacts through memory and transmission to the cold objectivity of history and to the impossibility of his own life story. His works are the live painting of the archetypes of collective culture. They combine the singular memory of individual experience and the shared depictions of the past, perceived as the effects of identity. Playing on empathy, they are a collective rallying force; they are the private fables of modernity.

Olivier Grasser


Exhibitions (selection)

2010
Les Quatre Saisons, Galerie chez Valentin, Paris.
2009
Marcel, Salle de la Fée Électricité de Raoul Dufy, Musée d'Art moderne de la Ville de Paris.
La Foule, FRAC Alsace, Sélestat.
Soupe de têtes de fantômes, Fondation d'entreprise Ricard, Paris.
Constellation, Centre Pompidou - Metz, Metz.
2007
L'Histoire d'une décennie qui n'est pas encore nommée, Biennale de Lyon 2007, Musée d'Art contemporain, Lyon.
2006
La Force de l'art, Grand Palais, Paris.