L'artiste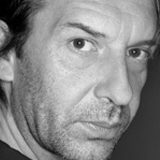 Didier MARCEL
Born in 1961 in Besançon
Lives and works in Dijon
Represented by the galerie Michel Rein in Paris

Nominated for the 2008 Marcel Duchamp Prize
Interview of the artist - 2008

Didier Marcel's entire work might well fit into a contained semantic game somewhere between the words "sculpture" and "culture". Didier Marcel is a sculptor and he revisits the notion of landscape using reproduction, displacement and transformation. For him, art is a manner of distancing things, both material and temporal, for an experience of consciousness that is both a critical observation and the work of memory. He makes works in the form of variations on landscape and rural life, a standard and generic agricultural landscape within a wider notion of landscape, combining natural elements with fragments of an industrial architectural heritage. He revives the traditional approach of sculpture by using sophisticated up-to-date techniques (moulding, modelling, flocking and electromechanical engineering) giving him other challenges. His entire approach is a reflection on the relationship that art entertains with its times.
Didier Marcel takes fragments of tree trunks and wasteland from the landscape to which he gives a radically artificial second life. Amongst other things, he has worked extensively on mock-ups for buildings destined for demolition – or even really demolished– presented on mechanized tripods in the manner of advertising displays. In doing so, he inverts the temporal procedures of the project and its realization, just like the registers of art and commerce; by truncating trees, he only shows the abstract potential of the column's architectural register. The elements from which his work proceeds are neither embellished nor converted and his sculptures do not reflect any melancholy or any poetry nor do they lend themselves to any romanticism. They compose abstract and decorative landscapes, simultaneously pop and harmonious, solely demonstrating that the idea of nature and landscape is a cultural mise-en-scene. His work evokes what the art critic Vincent Pécoil calls the "inside out ruins" and compare to the "anxious objects" designated by Robert Smithson as the early monuments of the industrial era.

Olivier Grasser


Exhibitions (selection)

2010
Didier Marcel, MAMVP, Paris.

2009
Didier Marcel, MUDAM, Luxembourg.
La Force de l'art 02, Grand Palais, Paris.
Les Archipels réinventés. Les 10 ans du prix Fondation d'entreprise Ricard, Centre Pompidou, Paris.

2008
Didier Marcel, Fondation Prince Pierre de Monaco.
Downtown Le Havre, Biennale d'art contemporain, Le Havre.

2007
Antidote 3, La Galerie des Galeries Lafayette, Paris.

2006
(S)cultures, Musée d'Art moderne et contemporain, Strasbourg.
Galerie Michel Rein, Paris.
La Force de l'art, Grand Palais, Paris.

2005
Couchers de soleil, 1999-2005, MAMCO, Genève.