L'artiste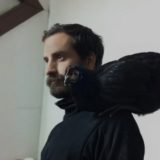 Davide BALULA
Davide Balula,
Born in 1978 in Annecy,
Lives and works in Paris and New York
Painter and sculptor
Represented by : galerie frank elbaz, Paris
Interview of the artist - 2015

Davide Balula's works appear as experimentations –that is to say, all together they give us an experience, its protocol and sometimes even its result – « I like the fact that all the stages are present, that everything is on the table ». For instance, like these nettles connected by electrodes to a record player Heartbeat Exciter (Stimulateur Cardiaque), 2006, or like this small physics and chemistry laboratory where a simple casino dice seems o be liquefying (La Dilution des coïncidences, 2007). Except that we don't really know exactly in what sense the experience is functionning, if the dice is being liquefied or, on the contrary, is in the process of being made. In this way, Davide Balula's trials do not necessarily follow the laws of physics but rather strive to out-manoeuver them, to disown them or distort them. The system set in place then opens itself to chance, to alteration and indecision, sot that we then pass from physical elements to a poetic vision of the world. And in passing, the work is being questionned about its founding principles, its limits, its conditions and its perimeter.