L'artiste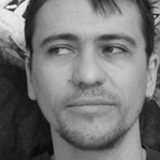 Damien DEROUBAIX
Born in Lille in 1972
Lives and works in Berlin
Represented by the galerie In situ, in Paris

Nominated for the 2009 Marcel Duchamp Prize
Interview of the artist - 2009

Damien Deroubaix's monumental paintings – in fact very liquid watercolours that permeate into the paper – evoke a howling and nightmarish universe. They are conceived like giant collages which amalgamate into a composite image and on the incompatible scale of monstrous figures all seeming to come from a world of unbearable darkness. Deformed and truncated bodies, gaping gobs, menacing animals, sketchy pornography, malevolent signs and comics' phylacteries are the language that Damien Deroubaix composes by borrowing from a trash, grunge and grindcore culture. In the first degree, his work is brutal and aggressive, full of black humour, cruelty and provocation. Through his outrageous iconography and adolescent attitude, Damien Deroubaix deems himself the hero of a violence used against those who produce it.

At his beginnings, when installation and new technologies of the image were booming, he opted for painting and drawing which represent for him the unwavering genres of protest and dissent. His style is simple and direct, consisting of drawing and large contrasting flat tints, limiting the chromatic range to sombre colours. Ostensibly, his first paintings assume a heritage from German culture from which he borrows icons and references, from the swastika to the mode of dissenting invective used by Dada or the painter and photo-paste artist John Heartfield. In his most recent works, painting displays a wider vocabulary, mixing his basic imagery with quotations from art history. It often finds itself spaced within installations bristling with derricks and watchtowers, simple-looking constructions using elementary materials that the public is invited to pass through while listening to death metal music. In this iconography of the Apocalypse, the paradoxical figure of the shark, simultaneously distinguished, powerful and blindly dangerous, occupies a particular place. "If sharks were men, naturally they would have an art too. There would be beautiful paintings in which sharks teeth would be depicted in magnificent colours, their jaws pure pleasure gardens in which we can frolic about magnificently" (in Bertolt Brecht, Histoires de Monsieur Keuner, L'Arche, Paris, 1980).

Olivier Grasser


Exhibitions (selection)

2010
Die Nacht, Kunstmuseum Sankt Gallen, Saint-Gall.
Temptation, Bloomberg Space, Londres.
Le Meilleur des mondes, MUDAM, Luxembourg.

2009
Die Nacht, Saarlandmuseum Saarbrücken, Sarrebruck.
Nosbaum & Reding – Art contemporain, Luxembourg.
Sick Bizarre Defaced Creation, Galerie In situ Fabienne Leclerc, Paris.
La Force de l'art 02, Grand Palais, Paris.

2008
Das große Glück, Sima Projekt, Nuremberg.