L'artiste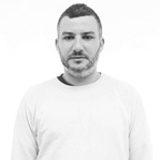 Bruno PEINADO
Born in 1970
Lives and works in Douarnenez
Represented by the galerie Loevenbruck in Paris

Nominated for the 2006 Marcel Duchamp Prize
Interview of the artist - 2006

In his installations, paintings or drawings, Bruno Peinado gathers, recycles and subverts the visual signs of our everyday world in the aim of underlining the ambivalence of our readings and interpretations of them. Drawing references from all cultures and from every sociological field, his work contributes to the aesthetics of the sample and transference in the same way as the post-modern appropriationist artists were able to develop them. In his determination to ally often distant universes, Bruno Peinado destroys the binary vision of the world in order to show its idealogical toxicity.
In an era of the standardization and globalization of the socio-cultural systems, the work of Bruno Peinado, an artisan of the remixing of logos, codes and colours, defining himself as a "Martiniquais from the Périgord, without any "protected designation of origin", defends the creolization theorized by Édouard Glissant.
In his emblematic work The Big One World (2000) showing a black Michelin man with raised fist, the artist defends the notion of a multiple identity freed from the dominant stereotypes. This process of exchange between cultures can be distinguished from simple crossbreeding, whose mechanical aspect leaves little place for the unexpected, whilst creolization results from an unpredictable heterogeneousness, a non frozen process.
Bruno Peinado's works, always playful and humoristic, are more about protest than about committed art. This is what we can observe in his installation Exil (2008) where the word on the "Exit" sign becomes "Exile". In its own way, this linguistic game which should be read as a revealing slip, denounces the injustices suffered by immigrants forced to leave their home country and who, once exiled, are yet again pushed into leaving, continually condemned to that wrenching moment of departure.

H. C.


Expositions (sélection)

2009
Purple Brain. Objects in Mirror May Be Closer Than They Appear, 21 Rozendaal Museum, Enschede.

2008
ArtistBook International, Centre Pompidou, Forum 1, Paris.
Suicidal Tendencies, École municipale des beaux-arts / Galerie Édouard Manet, Gennevilliers.

2007
Blissfully, ADN Galeria, Barcelone.
Radicale buissonance, FRAC Pays de la Loire, Carquefou.