L'artiste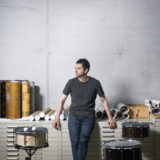 Anri SALA
Crédit photo : Wolfgang Stahr
Born in 1974 in Tirana, Albania
Studied at the Albanian Academy of Arts, video department at the École nationale supérieure des arts décoratifs in Paris and Fresnoy, Studio national des arts contemporains in Tourcoing.

Lives and works in Berlin.

Represented by the galerie Chantal Crousel

Nominated for the 2002 Marcel Duchamp Prize




In 1997, in his video Déjeuner avec Marubi, Anri Sala created the encounter between his Albanian heritage – a snapshot of the famous Studio Marubi, which had introduced photography into the Balkans as from end of the 19TH century – and a masterpiece of French art – Le Déjeuner sur l'herbe by Édouard Manet – in an incongruous juxtaposition. We can see three women in traditional costume busying themselves around a sewing machine; the view is frontal, the pose frozen, a pure "Studio Marubi" snapshot. The insertion of a detail from Le Déjeuner sur l'herbe within this image looks like an "accidental encounter" introducing colours and nudity into a very classic photo. The characters in Déjeuner are gradually "swallowed up" by the sewing machine which soon will have finished weaving a traditional dress for the naked young woman painted by Manet, making her similar to the seamstresses. In less than a minute and in a manner apparently light even poetic, Anri Sala touches on the main themes so dear to this work. His subsequent films often hover between documentaries (Arena, 2001, was filmed in an abandoned Albanian zoo) and cinematographic oeuvre (his film Intervista, 1997, whose title was borrowed from Fellini and influenced by Antonioni). Sala also practices photography and is interested in sound devices. His most recent works renew his universe until now marked by a taste for strangeness, notably expressed through the presence of animals (crabs in Ghostgames, 2002; the horse in Time after Time, 2003 and butterflies in Låkkat, 2004), in order to turn to problems and issues more especially linked to sound and to music (Long Sorrow, 2005; A Spurious Emission, 2007).

E. P.

Exhibitions (selection)

2009
Anri Sala. Purchase Not By Moonlight, Marian Goodman Gallery, New York.

2008
Anri Sala, CCA Center for Contemporary Art Kitakyushu Project Gallery, Kita-Kyushu.

2007
Anri Sala, The Box, Wexner Center for the Arts, Columbus, Ohio.

2006
Anri Sala, Galerie Chantal Crousel, Paris.

2005
Long Sorrow, Fondazione Nicola Trussardi, Milan.
Anri Sala Intervista, Yeans, Göteborg.

2004
Entre chien et loup / When the night calls it a day, ARC, Musée d'Art moderne, Paris.