Exhibition "De leur Temps"
The exhibition proposes a "snapshot" of French contemporary art collections through a selection of works acquired by private collectors during the three years prior to the exhibition. Its ambition is to give an on-the-spot appreciation of private collections as they are being made, observe the options being taken and the choices as they happen in current creation. Making up a unique panorama of recent acquisitions by French collectors, they demonstrate the vitality of collectors of different sensibilities and their determined, even fervent, commitment to the art "of their times".
6. AVIGNON – De leur temps
De leur temps (6)
Lieu : Collection Lambert
Opening: 13th of December 2019
Exhibition: 14th of December 2019 > 15th of March 2020
5. VILLEURBANNE
Le temps de l'audace et de l'engagement
Place : Institut d'Art Contemporain de Villeurbanne
Opening : 11 march 2016
Exhibition : 12 march 2016 > 8 may 2016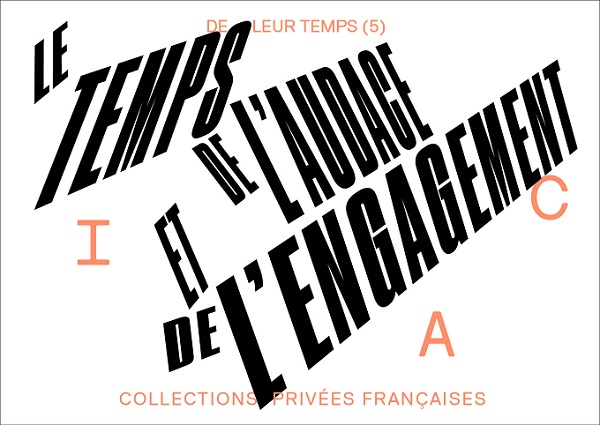 The fifth edition of the De leur temps triennial is taking place in the Institut d'Art Contemporain de Villeurbanne and curated by its Artistic Director, Nathalie Ergino. Devised around the theme of boldness and commitment, the exhibition is showing works from nearly 85 ADIAF collectors and 129 artists.
This edition's special feature: 12 productions specifically conceived for this project.
Artists
Giulia Andreani, André-Pierre Arnal, Laëtitia Badaut-Haussmann, Delphine Balley, Davide Balula, Isa Barbier, Basserode, Laurent Baude, Cécile Beau, Neil Beloufa, Julie Béna, Berdaguer & Péjus, Eva Bergera, Amélie Bertrand, Jonathan Binet, Anne Blanchet, Olivier Blanckart, Michel Blazy, Bruno Botella, Véronique Boudier, Patrick Bougelet, Lilian Bourgeat, Nathalie Boutté, David Brognon & Stéphanie Rollin, Émilie Brout et Maxime Marion, Elina Brotherus, Pierre Buraglio, Miriam Cahn, Stéphane Calais, Jerome Cavaliere, Nina Canell, Julie C. Fortier, Maxime Chanson, Collectif Fact, Serge Comte, Paz Corona, Vincent Corpet, Sylvain Couzinet-Jacques, Julien Crepieux, Fabrice Croux, Grégoire Dalle, Lilian Daubisse, Gaël Davrinche, Ivan De Menis, Hélène Delprat, Wim Delvoye, Laurence Demaison, Jean Denant, Raphaël Denis, Julien Des Monstiers, Judith Deschamps, Noël Dolla, Bernard Dufour, Alexander Duke, Cedrick Eymenier, Eléonore False, Mounir Fatmi, Claude Faure, Stephen Felton, Isabelle Ferreira, Anne-Valérie Gasc, Geert Goiris, Toni Grand, Petrit Halilaj, Bérengère Henin, Renaud Jerez, Eva Jospin, Zilvinas Kempinas, Tarik Kiswanson, Kolkoz, Evangelia Kranioti, Laura Kuusk, Arnaud Labelle-Rojoux, Mehdi-Georges Lahlou, Bertrand Lamarche, Georges Henry Longly, Jonathan Loppin, François Malingrey, Dimitri Mallet, Matthieu Manche, Maude Maris, Olivier Masmonteil, Théo Mercier, Myriam Mihindou, Adrien Missika, Nicolas Momein, Arash Nassiri, Otobong Nkanga, Nøne Futbol Club, Damir Očko, Daniel Otero Torres, Blaise Parmentier, Laurent Perbos, Laurent Pernot, Aurélie Pétrel, Bernard Piffaretti, Agathe Pitié, Éric Pougeau, Louise Pressager / Javier Pérez, Laure Prouvost, Florian & Michael Quistrebert, Till Rabus, Sean Raspet, Rero, Johann Rivat, Roti, Lionel Sabatté, Vittorio Santoro, Pierre Seinturier, Yann Sérandour, Alexandre Singh, Société Réaliste, Esther Stocker, Jo-Ey Tang, The Kid, Xavier Theunis, Simon Tilche Échasseriaud, Niels Trannois, Tunga, Ida Tursic & Wilfried Mille, Pieter Vermeersch, Noémie Vulpian, Yan Xing, Michael Zelehoski, et des éditions de Saâdane Afif, Leonor Antunes, Claude Rutault, Derek Sullivan et Untel.
Press release :
ADIAF-Deleurtemps(5)
More info about IAC : www.IAC.eu
Catalogue available in bookstores.
---
4. NANTES
Regards croisés de 100 collectionneurs sur la jeune création
Place : "Le hangar à Bananes" Art Center
Opening : 11 october 2013
Exhibition : 12 october 2013 > 5 january 2014
The fourth exhibition of "De leur temps" presents a new snapshot of private collections with works acquired since January 2009. After the Strasbourg interlude reserved for the 10th anniversary of the Marcel Duchamp Prize, the triennial "De leur temps" returns to its original intention of showing the "taste" and eclecticism of French private collectors.
Organized in cooperation with the Musée des beaux arts de Nantes and Blandine Chavanne, this new exhibition will unveil works by French and overseas artists in the "Hangar à Bananes". This exhibition space destined for temporary exhibitions has a surface area of 1500m2 and will focus on the contemporary art market in our country.
More than 100 collectors are participating to this event.
---
3. STRASBOURG-SÉLESTAT
10 ans de création en France : le Prix Marcel Duchamp
75 collectors, 40 artists, 150 works Places : MAMCS & Frac Alsace
Exhibition : 6 november 2010 > 13 februrary 2011
De leur temps (3), 10 ans de création en France: le Prix Marcel Duchamp is the third in the series of exhibitions De leur temps (after the Musée de Tourcoing in 2004 and the Musée de Grenoble in 2007). This third exhibition has been devoted to artists from the Marcel Duchamp Prize which celebrated its 10th anniversary in 2010.
Organized at the Musée d'art moderne et contemporain de Strasbourg and the FRAC Alsace, the exhibition DE LEUR TEMPS (3), groups together 150 works from 75 private collections. It allows the public not only to view or view once again the winners but also all of the artists nominated for the Prize, i.e. more than 40 of today's creators.
Catalogue published by the ADIAF.
Technical committee
Joëlle Pijaudier, Director of the Musées de Strasbourg
Estelle Pietrzyk, Curator of the Musée d'art moderne de Strasbourg
Olivier Grasser, Director of the FRAC Alsace
Philippe Dolfi, ADIAF
Michel Poitevin, ADIAF
---
2. GRENOBLE
Art contemporain et collections privées en France
85 collectors, 90 artists, 120 works
Place : Musée de Grenoble (5 place Lavalette 38000 Grenoble – www.museegrenoble.fr)
Exhibition : 7 july 2007 > 16 september 2007
Coproduction : ADIAF & Musée de Grenoble
The exhibition "De leur temps (2)" follows on from the first one held in the Musée de Tourcoing in 2004. Once again, this exhibition wishes to open a window onto French collections in order to highlight the artists, their works, their galleries and their collectors. The concept remains the same. This is to show contemporary works in every artistic form, provided they have been acquired by French (or residing in France) private collectors over a period between the 1st of January 2004 and the 31st of December 2006. In the same way, almost all of the selected works have been created recently (after the 80s).
In particular, works from some 90 French and overseas artists, mainly from the young generation are on show, forming a rich and diversified panorama of art today. Among them: Kader Attia, Sylvia Bächli, Ronan Barrot, Gilles Barbier, Sophie Calle, Wim Delvoye, Tatjana Doll, Sylvie Fajfrowska, Gregory Forstner, Matthieu Mercier, Valérie Belin, Kolkoz, Isabelle Levenez, Philippe Mayaux, Ernesto Neto, Javier Perez, Massimo, Peter Saul, Vitali, Xavier Veilhan and Erwin Wurm…
This new "snapshot" of French contemporary art collections has enabled people to discover a selection of 120 works including painting, sculpture, photos, videos and installations recently acquired by 90 private collectors. It allows people to have an on-the-spot appreciation of private collections, observe the options taken and the choices made by collectors in relation to the diversity of their own sensibility and their commitment to the "art of their times".
Catalogue published by the ADIAF.
Technical committee
Guy Tossato, Head Curator of the Musée de Grenoble
Cécile Brilloit, Musée de Grenoble
Bruno Henry, ADIAF
Philippe Piguet, ADIAF
Michel Poitevin, ADIAF
---
1. LILLE-TOURCOING
French Private Collections
70 collectors, 150 artists, 200 works
Place : Musée des Beaux-Arts de Tourcoing (2 rue Paul Doumer 59200 Tourcoing)
Exhibition : 6 october 2004 > 6 december 2004
Coproduction : ADIAF & Musée des Beaux-Arts de Tourcoing
Many people think that when it comes to contemporary art, the French market is a real desert. Can it really be that in France only the museums and other institutions interest themselves in today's creation and that outside of these privileged places, contemporary artists face a lack of disinterest from the French public. The ADIAF – which is the biggest group of private art collectors in France – wished to refute these assertions which are very detrimental to the artists and hinder the development of a healthy market. Because, when we realize the French contemporary collectors buy as much if not more than all the FRACs in France combined, we cannot seriously uphold such opinions.
Because of the great number of artists shown (not less than 150 artists) and their emotional dimension (200 works chosen and loaned by 70 collectors), the exhibition "DE LEUR TEMPS – Collections privées françaises" is even more of a snapshot of French private collections because only acquisitions from the past three years have been selected (works acquired between the 1st of January 2000 and the 30th of June 2003). This is the first initiative of this importance in France since "Passions Privées" organized by the Musée d'art moderne de la Ville de Paris, under the direction of Suzanne Pagé, nearly ten years ago.
Organized in coproduction with the Musée des Beaux-Arts de Tourcoing during the LILLE 2004, capitale européenne de la culture event, this exhibition demonstrates not only the commitment of private collectors and the passion they feel for the works but also more especially their mobilization side by side with the artists and the actors on the art market. All forms of expression are being exhibited: installations, drawings, photos, videos, painting and sculpture… and the profiles of the artists on show are as multiple and varied as those of the collectors whether they are radical or eclectic in their approach. But beyond any aesthetic consideration, "DE LEUR TEMPS – Collections privées française" especially demonstrates – as pointed out by Suzanne Pagé in the foreword to the exhibition's catalogue – "that today there is an interest in contemporary art from an ever increasing circle of people" and that collectors are one of the determining and driving factors on the dynamic French scene.
Catalogue published by the ADIAF : 360 pages – 35€
Technical committee
Evelyne-Dorothée Allemand, Curator of the Musée des Beaux-Arts de Tourcoing
Émilie Ovaere, Attaché to the conservation department of the Musée des Beaux-Arts de Tourcoing
Yannick Courbès, Attaché to the conservation department of the Musée des Beaux-Arts de Tourcoing
Michel Poitevin, ADIAF
Philippe Piguet, ADIAF
Christophe Durand-Ruel, ADIAF
---